As an industry in its relative infancy, cryptocurrency is subject to rules that change so quickly it can make your head spin.
Companies in this sector have become overwhelmed with increasingly stringent regulatory compliance processes. They are expected to meet standards and adhere to laws as soon as they are enacted to avoid consequences. What's more, these issues grow exponentially with every state and country that a crypto company operates in.
Tracking all of the state licenses and reports is an increasingly overwhelming task, requiring a rigorous level of time, and resource management that can feel impossible to achieve or maintain.
Even so, non-compliance isn't an option.
Sure, keeping on top of things is a tall order, but it can be done. We'll show you how cryptocurrency institutions can understand the statutes surrounding their businesses and overcome the obstacles to meeting them.
The unique challenges of crypto money transmitter license compliance
Any business that transmits money – virtual or otherwise – is classified as a Money Transmitter, which falls under the Money Service Business (MSB) umbrella.
At the state level, definitions of what is considered Money Transmission may vary. It's important to be familiar with regulator requirements in every state where you conduct business.
It's important to do your due diligence as the regulatory landscape tends to be a moving target. You will often be required to maintain a money transmitter license (MTL) and adhere to increasingly stringent and evolving state and federal regulations.
And if you're wondering if your cryptocurrency business is considered a money services business (MSB) or a money transmitter and is subject to MTL rules, the answer is probably "yes."
Fulfilling these statutes and standards is a time-consuming, convoluted undertaking for any MSB, but compliance is especially challenging for cryptocurrency institutions.
Federal and state compliance play their role
Staying in the good graces of state and federal regulators are among the most significant challenges that cryptocurrency businesses have to deal with. Things can get tricky fast.
How? For starters, U.S. law requires MSBs and money transmitters to follow several anti-money laundering (AML) registration and reporting mandates. Additionally, they must satisfy the requirements set forth by the US Treasury's Financial Crimes Enforcement Network (FinCEN) and the web of laws collectively referred to as the Bank Secrecy Act (BSA).
Crypto currency businesses have to comply with a variety of state regulations as well that may be more or less stringent than federal statutes.
Making matters more complicated, both federal and state obligations change constantly. Thus requiring companies to maintain near-omniscient knowledge of updates to remain compliant.
Challenges of document management
Disorganization is another major threat to cryptocurrency money transmitter license compliance. Spreadsheets and other documents which are used to comply with state and federal statutes are not only time-consuming to create and maintain, they require meticulously organized storage. To keep up, companies need to be on their game.
Current solutions for this level of document management are often inefficient. They're analog-level answers, consisting of cobbled-together systems of PDFs, spreadsheets, emails, and calendar reminders. 
The challenge of staying up to date with regulations and document management standards takes its toll. As a result, keeping up with deadlines, paperwork, and other compliance tasks can be a chore.
It's possible to do better
Sure, it sounds daunting, but it's possible to overcome all of the obstacles involved in getting compliance right. Success requires an ongoing process consisting of five key aspects:
Identifying the regulations that your company has to follow

Implementing a group of best practices to adhere to those regulations

Regularly auditing the organization's compliance systems

Being able to identify and respond effectively – and proactively—to compliance issues

Staying up-to-date with evolving regulations
To survive and thrive in today's market, cryptocurrency businesses have to develop systems so compliance officers can organize paperwork, stay current with federal and state regulations, and keep the company on track at all times.
How is it possible? ComplyFit is the "easy button" solution to cryptocurrency MTL compliance. It's productivity software designed by compliance experts that offers a suite of inventive tools to solve the most pressing MTL compliance issues.
Real-time updates and optimization tools
ComplyFit is a first-of-its-kind MTL monitoring and management tool, helping cryptocurrency financial institutions identify and address compliance vulnerabilities in real-time. The software tracks money transmitter license reporting and renewal requirements in all 50 states and territories plus provides updates in real-time when state licenses require an update or renewal. 
With a calendar that shows you when reports are coming due and notifications about upcoming deadlines, you won't miss another regulation update or filing deadline. Manual tasks such as filing can be done in the app and ComplyFit will automatically mark the tasks that you have completed so you stay organized.
Streamlined record management and a unified dashboard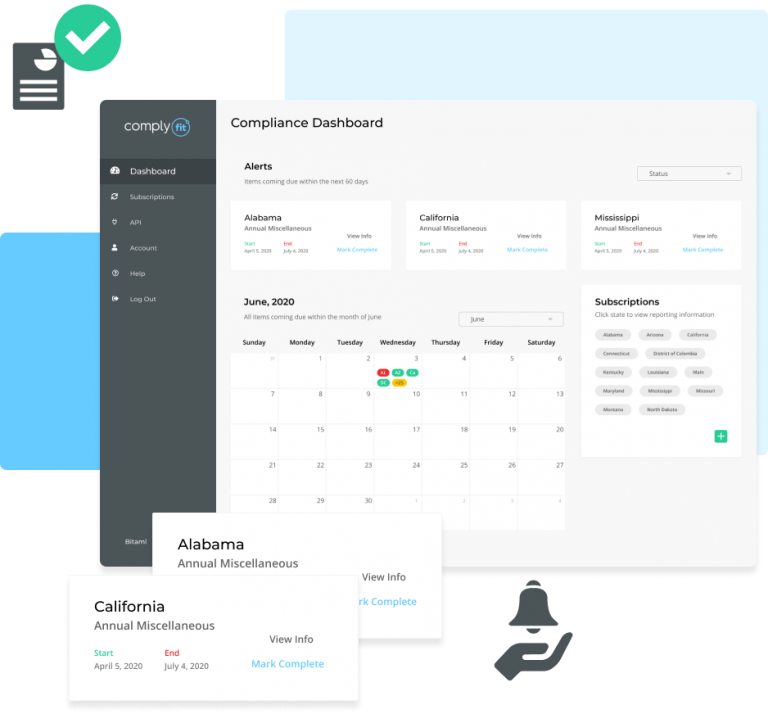 For the first time, crypto financial institutions can manage their license reporting and renewal requirements from a single dashboard. ComplyFit puts everything you need to stay compliant at your fingertips including:
Quick links to each state's reporting portals and forms 

Current state regulator contact information

A library of resources to ensure that you're making knowledgeable decisions
Why ComplyFit for money transmitter license management?
Here at ComplyFit, we understand how hard it can be to stay on the right side of regulatory rules and state regulations. Think of us as experienced tour guides through the jungles of ever-evolving compliance policies. But what really sets us apart is our passion for the cryptocurrency industry. We're early adopters in this space and share the same entrepreneurial spirit as our customers.
It's why we started BitAML–the go-to compliance consulting firm for crypto companies–and ComplyFit; to help businesses in this industry by providing the tools and knowledge they need to successfully meet the increasingly onerous requirements of state and federal regulation.
ComplyFit was designed to make MTL reporting and filing, one of the most burdensome tasks in institutional compliance, as easy as possible. It's specialized and based on experience: built by compliance experts for compliance departments in the cryptocurrency space.
Our team frequently contributes to both virtual currency and compliance industry events and regularly consults with policymakers, law enforcement, and retail and investment bankers. We keep our finger on the pulse of the industry and see the challenges on both sides of the regulatory divide as they happen.
Once we have this knowledge, we connect both sides, using our background and experience to get the information where it needs to go to help the companies we work with. 
With our background and experience, we make compliance easier. Want us to help you? Reach out to ComplyFit today at info@complyfit.com.